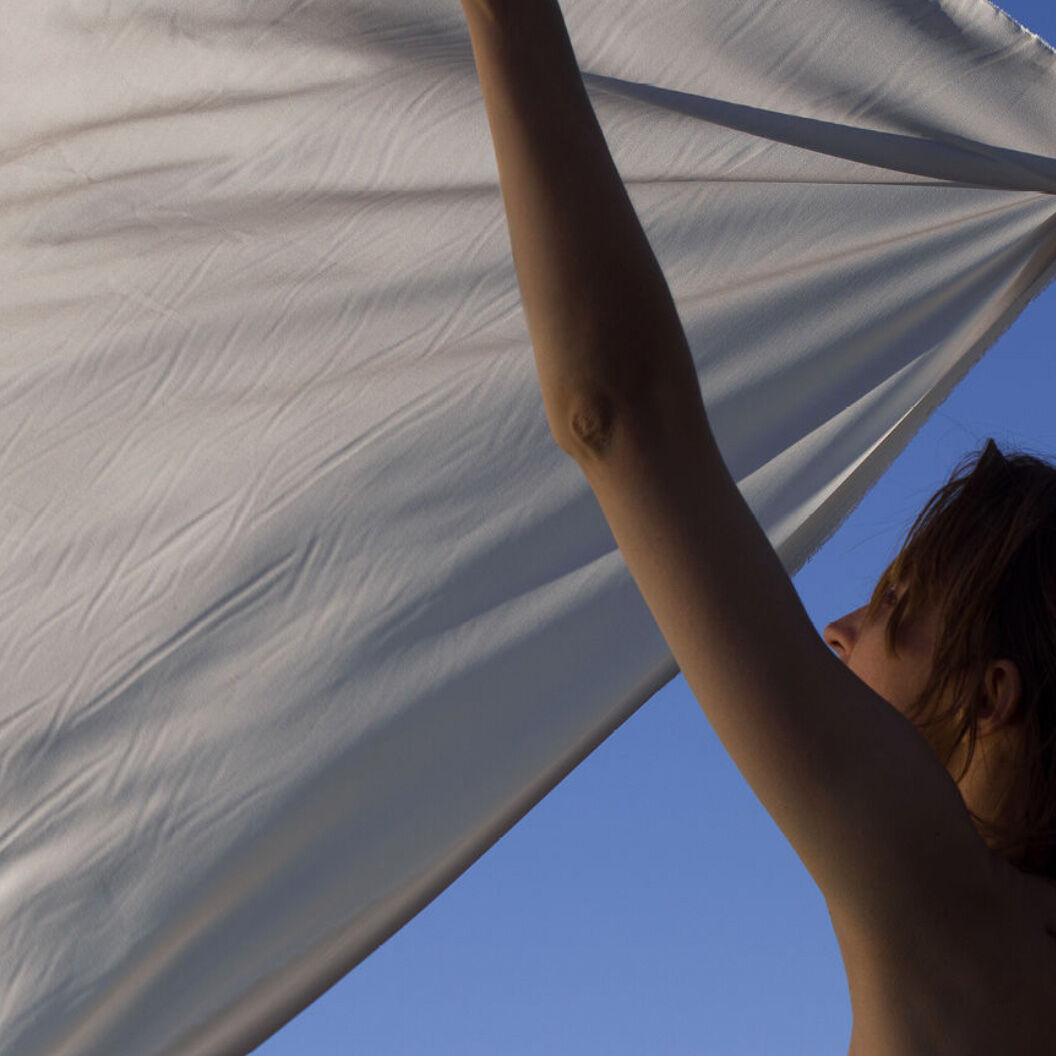 The majority of our silk comes from traditional sources in Como, Italy. However, through the innovation of pioneering technology, we are now exploring completely new ways of (re)creating this sublime material.
Finding an alternative: Peace Silk
Over the years we have used a mix of traditional silk and Peace Silk. Peace Silk is made the same way as commercial silk, but the silkworms are instead able to turn into moths and emerge naturally from their cocoons. The silk is then gathered from the forests after the moths have flown away.

Although Peace Silk causes no harm to silkworms, we have experienced issues with using it. The method results in broken silk threads that must be woven back together. We have found it difficult to source the quality and quantity of Peace Silk we need to produce our garments.

Synthetic spider silk: The future of silk
Our dedication to innovation means we are always looking for new ways of bringing sustainability into our design methods, while also creating the most beautiful product possible. A partnership with technology innovator Bolt Threads is allowing us to do exactly that with silk.

Bolt Threads, a biotechnology company based in California, is creating the next generation of advanced materials. It is changing the future of silk as we know it – and it all starts with nature.
On a personal and professional level, partnering with Bolt Threads is so exciting because it feels like everything is finally coming together and the dots are being connected between fashion, sustainability and tech innovation.
Stella McCartney
By studying spider silk, Bolt Threads was able to understand the relationship between the arachnids' DNA and the characteristics of the fibres they make. The company's technology allows it to replicate these processes at scale and create a vegan silk with remarkable properties – including high tensile strength, elasticity, durability and softness. Microsilk™, as it's commonly known, can also be produced in a way that has less of an impact on the natural environment.

Not only is this method revolutionary, but it creates cleaner, closed-loop processes for manufacturing using green chemistry practices. It also produces less pollution, supports long-term sustainability and is vegan friendly – made entirely from yeast, sugar and DNA.
We designed a dress created in collaboration with Bolt Threads using their lab-made, vegan-friendly Microsilk™ for MoMA's exhibition 'Items: Is Fashion Modern?'
The exhibition explored the past, present and future of 111 items of clothing and accessories that have had a strong impact on the world in the 20th and 21st centuries.
This partnership represents a huge step change not only for Stella McCartney, but also for the future of fashion – one where our ideas, resources and methods of manufacturing are unlimited.
Other Materials & Innovation