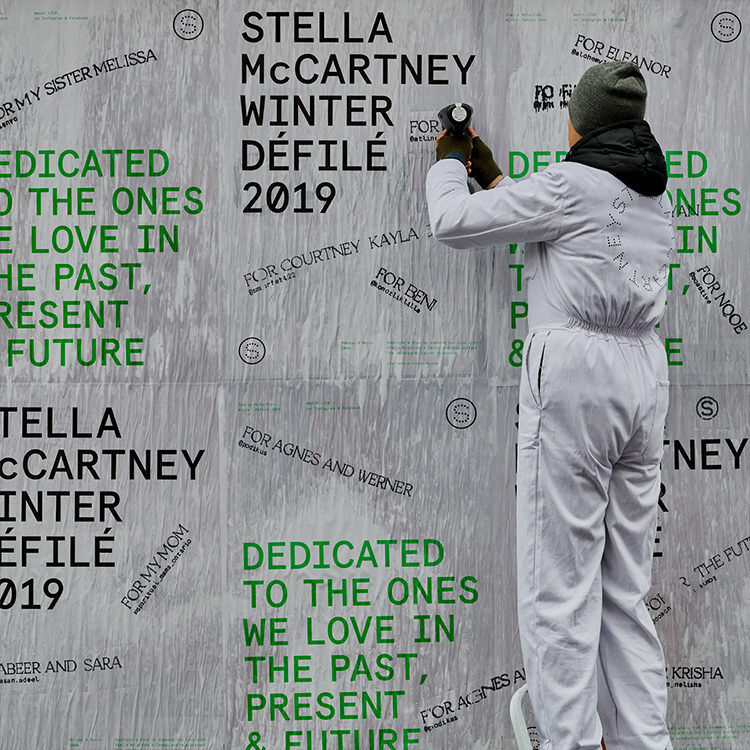 Saving the forest with #ThereSheGrows
In the lead-up to the Winter 2019 runway show in Paris last month, Stella launched her #ThereSheGrows campaign, setting out to help save the endangered Leuser Ecosystem from deforestation one dedication at a time.
Stella launched the campaign with a heartfelt Instagram video message, dedicating a tree to her mother Linda and inviting others to do the same with #ThereSheGrows. Stella donated to environmental not-for-profit Canopy on behalf of everyone that took part, who's vital work protects the Leuser Ecosystem and endangered forests across the world.
She was joined by the likes of Gwyneth Paltrow, Selma Blair, Drew Barrymore and Jimmy Fallon, helping to raise awareness of this important cause and drive further donations to Canopy. Dedications were fly-posted across Paris in the days before the show, and on show day, the Opéra Garnier was flooded with dedications as they were plastered across the runway and played aloud inside the venue.
The Leuser Ecosystem in is a 6.5 million-acre forest in Sumatra, Indonesia and is one of the most diverse and precious places in the world. Home to thousands of plant and animal species—including the endangered Sumatran Orangutan—it is under threat as it is cleared for palm oil, textiles, logging and development. By protecting it, we not only protect the species who call it home, but also the millions of people who rely on it for their livelihoods. Protecting our ancient forests is also important to our biodiversity and helps reduce the impact of climate change.
This is the first step in the #ThereSheGrows initiative, so stay tuned. There's much more to come.
If you'd like to learn more about Canopy and their work, click here.