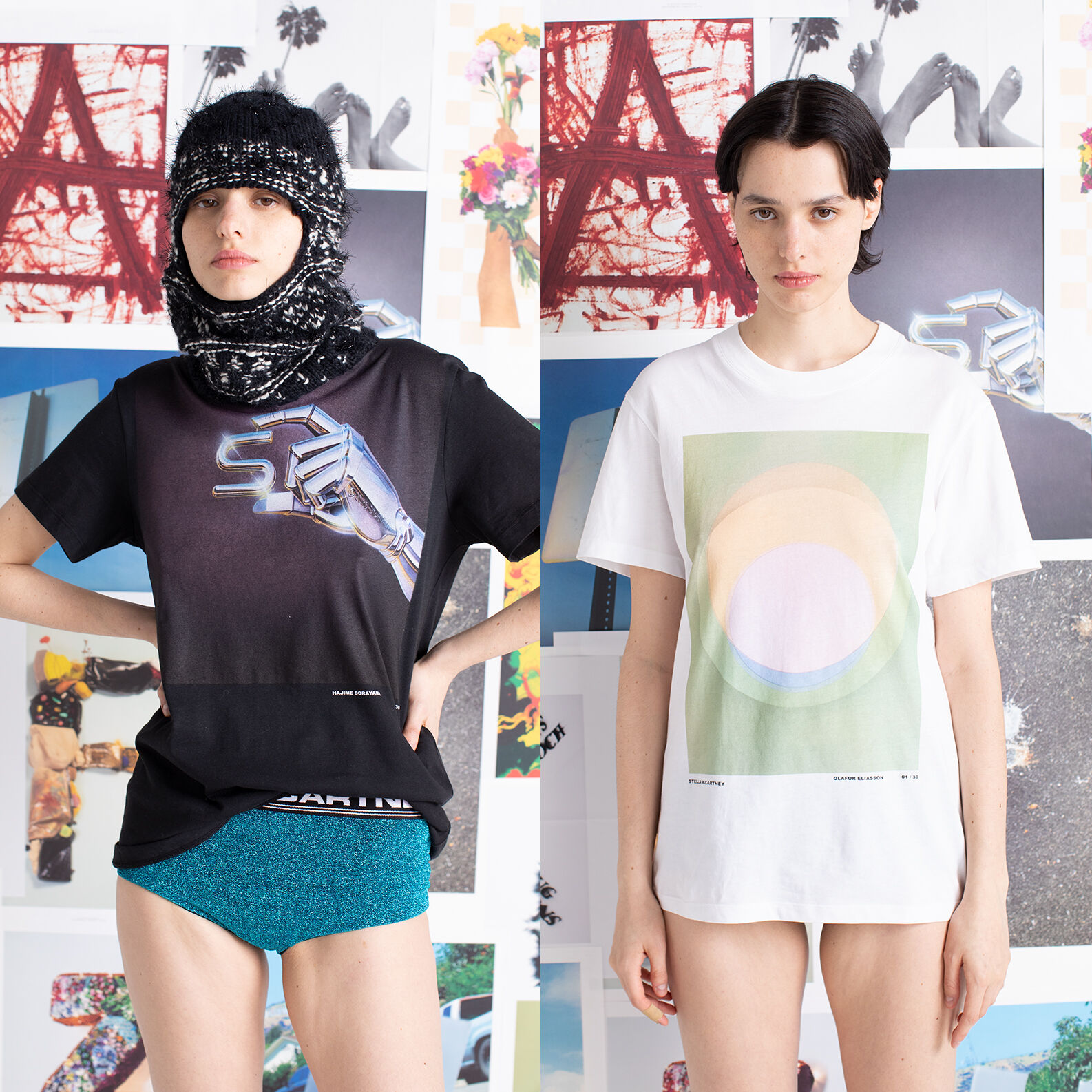 Exclusive McCartney A to Z Manifesto artworks auctioned for charity
Last year during lockdown, Stella wanted to return to the world more mindful and focused on what matters. She conceived the McCartney A to Z Manifesto, a guiding alphabet defining who we are and hope to be. Our values were brought to life through the visions of global artists, with 12 of those original artworks being auctioned for charity in the Phillips New Now sale from 7 to 13 July.
Among the world-renowned artists whose creations are being auctioned are Peter Blake, Chantal Joffe, Erté, Cindy Sherman, George Condo, Jeff Koons, Linda McCartney, Olafur Eliasson, Hajime Sorayama, Sam Taylor-Johnson, Ed Ruscha and Joana Vasconcelos. All proceeds from the sales of their pieces will be donated to their charities of choice.
For those who cannot attend the Phillips New Now auction, the artworks of legendary visionaries Ed Koons, Olafur Eliasson and Hajime Sorayama are additionally available as exclusive artist t-shirts. Only 30 of these individually numbered limited editions was produced globally, made from a soft organic cotton.Each supports the artists' chosen charities, including International Centre for Missing & Exploited Children (Koons), Vash's Green School (Eliasson) and Médecins Sans Frontières Japan (Sorayama).
Discover more about the artists and their relationships with Stella below.
Jeff Koons – K is for Kindness
"Jeff was one of the first I called to ask to collaborate with me on the A to Z. I've known him a really long time; spending time in his studio, walking me around, to his show in Versailles, the Pompidou, his exhibition at Damien Hurst's studio. His kindness and generosity – all that's so there in his bunches of flowers, saying K for Kindness." – Stella
Kindness means to be there for someone, and to offer your ongoing support. I have been using the symbol of offering through the gesture of the hand offering flowers. It's a symbol that is tied to both nature and society and shows that kindness is a vehicle for us to survive.
Jeff Koons
A long-time friend and collaborator of Stella's, the legendary New York-based pop artist Jeff Koons materially represents a variety of topics, blending creativity with commercialism – not unlike fashion. His paintings and sculptures thematically address advertising, taste, pleasure, media and celebrity. Since his first show in 1980, his tongue-in-cheek style has led to his pieces being exhibited around the world, including his widely celebrated "Balloon Dog" sculptures that bridge the banal with the beautiful; a Koons signature. His work inspired prints in our Summer 2006 collection and Stella previously collaborated with him on a platinum rabbit necklace pendant and charm bracelet.
Olafur Eliasson – O is for Organic
"Olafur is a man with a mind. He video-messaged me from his studio in Berlin with this incredible verbal journey around the letter 'O' during lockdown; ultimately, it's about filling a negative space with positivity. The positive value of considering every action we take or decide not to take." – Stella
I cut out a hole. I've taken away something. Behind, there's a kind of a pink mirror. I'm making a space. Defining something by the nothing. It's participating by removing and making space. Suggesting that it is the things that are not there which is the subject.
Olafur Eliasson
Olafur Eliasson is a contemporary visual artist whose work combines natural elements like light, water and air temperature with makeshift technical devices to transform public spaces into immersive environments that prompt reflection. Living near Copenhagen, with a laboratory and studio in Berlin, his best-known pieces include "The Weather Project", a giant floating sun in the Tate Modern's Turbine Hall, and "New York City Waterfalls", which famously flowed off the Brooklyn Bridge. Eliasson collaborated with Stella during lockdown, offering our community the rare opportunity to virtually tour his studio.
Hajime Sorayama – S is for Sustainability
"I have known Sorayama for years – he is a genius and has the visionary perspective I trusted to riff on my own future-forward point of view on sustainability." – Stella
If you turn S round 90 degrees, it becomes a mobius loop. To me, the mobius loop is the synonym of eternity and immortality. SORAYAMA is the symbol of immortality. My artwork has the mission and function of revealing the truth.
Hajime Sorayama
Japanese illustrator and designer Hajime Sorayama is known for his hyper-detailed, erotic portrayals of feminine robots – self-describing his style as "superrealism." His work looks far into the future and explores the intimate relationships we can have with objects.