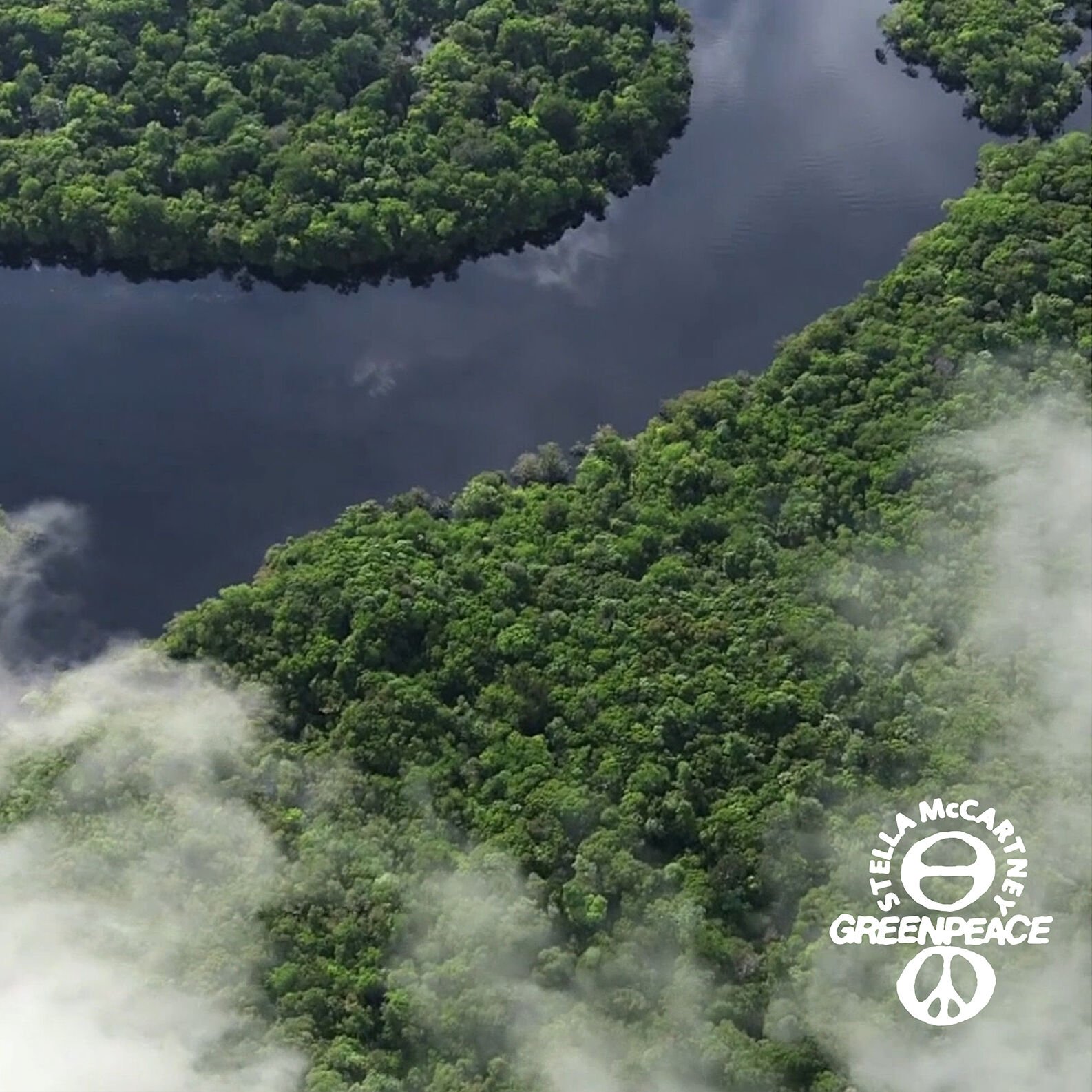 Earth Day 2021: Stella x Greenpeace fights to end Amazon deforestation
When Stella McCartney launched in 2001, we brought a conscience to the fashion industry by committing to never using leather, feathers, fur or exotic skins. For Earth Day 2021, we are elaborating on that narrative by launching a capsule raising awareness of Greenpeace's campaign to stop deforestation in the Amazon fuelled by industrial meat production – and asking our community to sign its Act for the Amazon petition.
Celebrating our respective 20th and 50th anniversaries, the Stella x Greenpeace capsule was released as part of our Summer 2021 collection and is aligned with our zero-deforestation and anti-racist commitments. It includes four organic cotton sweatshirts and t-shirts inspired by vintage eco-activist designs and our McCartney A to Z Manifesto. Additionally, the Stella McCartney Cares Foundation is making a donation to Greenpeace to support its campaign to stop deforestation in the Amazon. ​
The Amazon is the world's largest rainforest, home to 400 billion trees, 10% of the planet's animal species as well as 30 million people. It is also Earth's largest land carbon sink, absorbing and sequestering 90-140 billion metric tonnes of carbon. Devastatingly, Amazon deforestation reached a 12-year high in 2020.
Industrial meat and dairy production are the single largest cause of deforestation on the planet. Fires often follow deforestation to clear land for industrial meat production and, last year, official data showed an area larger than the UK was burned across Brazil as a whole. Burning is used to prepare deforested land for cattle to graze or to grow soya for animal feed in factory farms. Some of the meat and dairy produced is sent to supermarket shelves and fast food restaurants in the UK and across the world.
Forest destruction disproportionately threatens the homes, livelihoods and lives of Indigenous peoples. We believe racial justice is climate justice – we cannot have sustainability without solidarity. Both Stella and Greenpeace are committed to offering our platforms to the Amazon's Indigenous communities.
We are nearing a tipping point. Around 17% of the Amazon has already been deforested and some scientists believe if 3% more is destroyed, much of the rainforest's incredible biodiversity and climate crisis-mitigating qualities could be lost forever. This cause has never been more urgent.