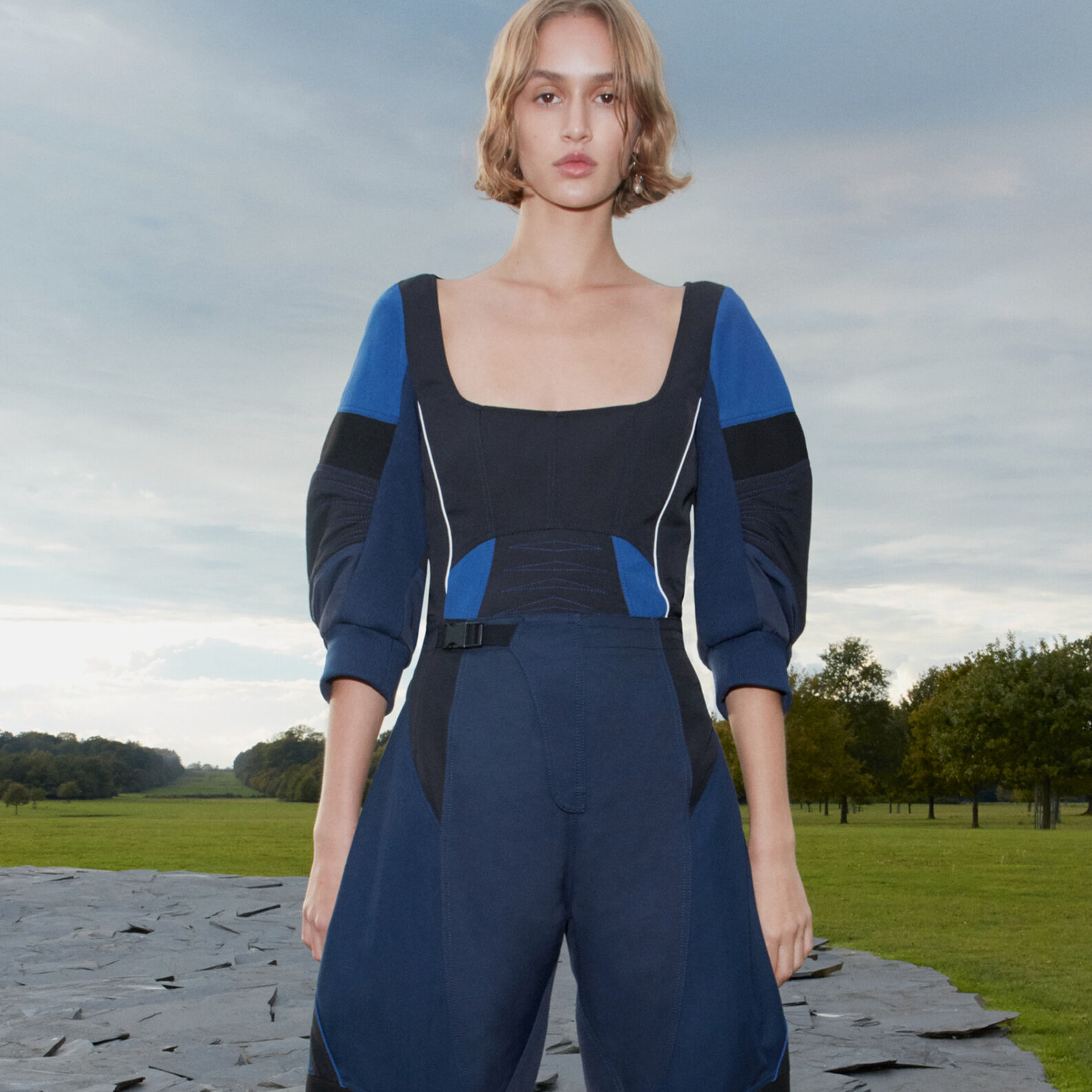 McCartney A to Z Manifesto: Summer 2021 Show
The McCartney A to Z Manifesto: Summer 2021 Show collection film debuted today – personifying a collective desire for movement and connection with our bodies, nature and art. Conceived during lockdown, we questioned how and why we do everything – returning to the world more mindful, grateful and focused on what matters. The collection reflects our core values and is made with 65% sustainable materials.
Shot at Houghton Hall and Gardens in Norfolk by creative duo and Stella friends Mert & Marcus, models wove through lush greenery and sculptures by Phillip King and Richard Long – captured in motion wearing instinctual, experimental silhouettes contrasting sportiness against historical shapes.
Inspired by women using athleticism for escapism, Stella reconnected with and reaffirmed the importance of nature. Key looks played on BMX-style details alongside ultra-short bodycon dresses, tops and cycling shorts made from repurposed lace. This form-fitting moment was continued by ribbed organic cotton yarn vests, voluminous trousers and dresses that appeared sculpted onto the body.
Stella's signature British tailoring included timeless menswear-inspired silhouettes made feminine worn over Stellawear; dichotomies of fitted jackets and billowing trousers, khaki safari jackets and short skirts. Distilling a longing for travel, fluid satin dresses and jumpsuits were adorned with oceanic prints of classical shells in navy and white and fluo coral patterns. Continuing this vibrancy, our iconic jumpsuits were refreshed with a hand-done dip dye.
New this season are flip flops featuring an exaggerated outer sole in summery shades, created with 50% recycled materials. Our Daisy clog sandal also had its debut – made distinctive by its vegan, cruelty-free upper with gold stud hardware and a chunky heel crafted from sustainably sourced wood.
Vegan, cruelty-free bags were updated in seasonal shades and crafted in coastal raffia, including our iconic Falabella as a beach bag. Our Logo and Hobo bags were also revisited in smaller styles, while the Chunky Chain was reimagined in softer colours and materials.
Stella McCartney eyewear relaunched with a bamboo wayfarer and eccentric squared-framed sunglasses with circular lenses. Jewellery included letter earrings – a nod to the McCartney A to Z Manifesto. Ear-cuffs also paid homage to the season's reverence for nature and classicism.
Discover all of the highlights from the show, including exclusive backstage content, with #StellaSummer21.