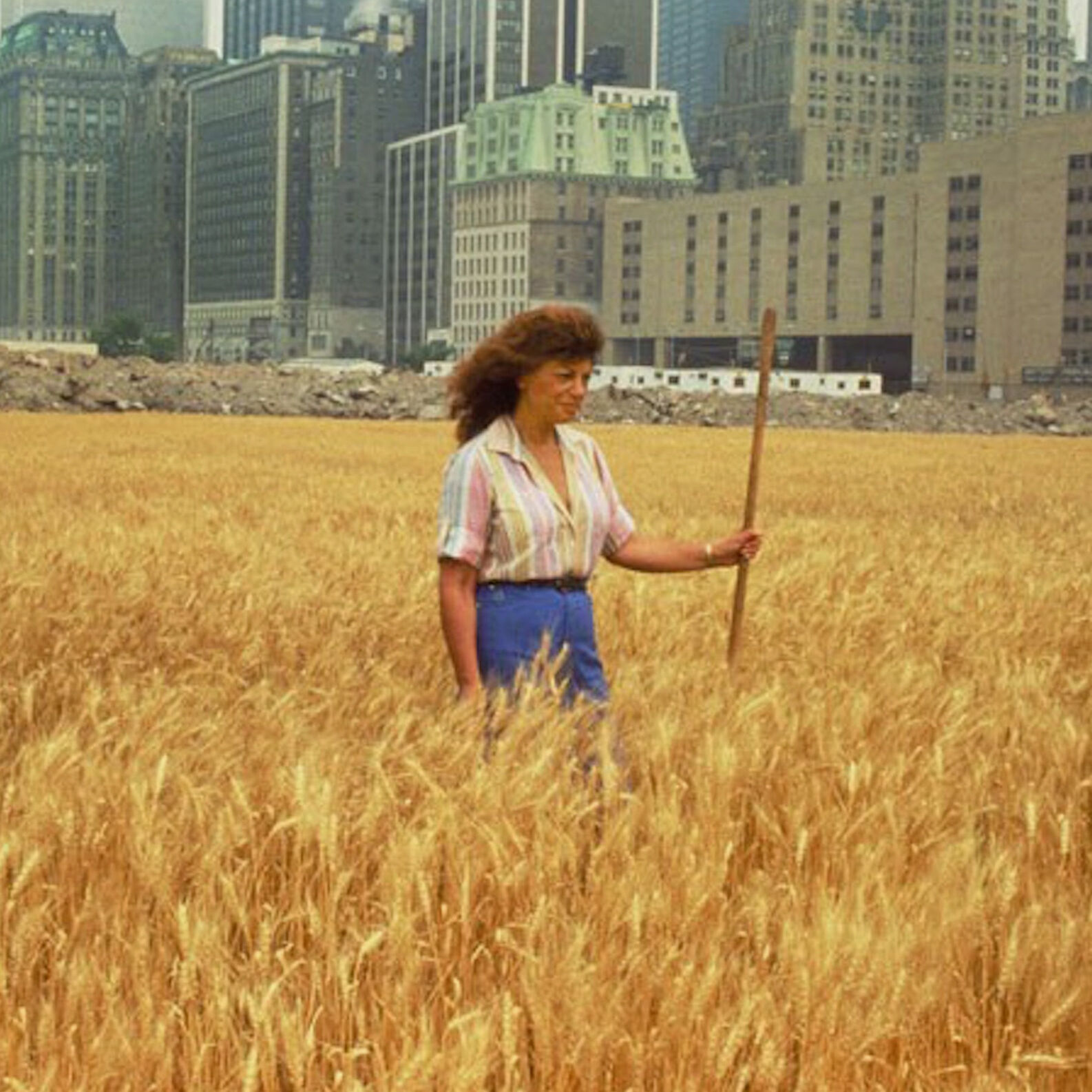 Let it grow: Women, art and activism
Guest authored by Jennifer Higgie
In 1982, Agnes Denes planted a field of golden wheat in a landfill neighbouring the World Trade Center in New York. She wasn't, however, a farmer: she was, and still is, an artist whose focus is to place nature at the heart of a city's commercial centre. Denes is one of many women from the past century whose approach to art-making involves the intertwining of ecology, environmentalism and creativity.
Some of these artists employ performance in order to get their point across. In 1970, in San Francisco, Bonnie Sherk, dressed in an evening gown, waded through a pool of rancid water to an abandoned armchair and sat in it, facing an audience of startled people in passing cars. Her aim? To highlight the creative potential of derelict spaces. This was the beginning of her series 'Sitting Still', which culminated in the artist showing solidarity with caged animals by having lunch with them in the San Francisco Zoo. In 1974, Sherk, along with other artists and activists, was the driving force behind The Farm, which transformed seven acres of wasteland into a children's farm, a theatre, a school without walls, a library, and gardens 'for humans and other animals'.
Artist: Bonnie Sherk; image from @Kth.Stnr

Similarly, for more than 50 years, Suzanne Lacy has worked with communities to create installations, videos and large-scale performances in response to gender, class and urban issues. Her five-year project 'Beneath Land and Water', for example, involved forming an eco-art team to help revitalise the environment and the economy of Elkhorn in Kentucky, a city which had been devastated by mining.
Her spirit is echoed by the Slovenian artist Marjetica Potrč who, over the past few decades, has developed a waterless toilet for a shanty-town in Caracas in Venezuela, a community park in a wasteland in Soweto and the UK's first ever natural swimming pond in a high-density area of central London.
Artist: Marjetica Potrč; image from @NatashaCica

In Britain, the artist-activist Sonia Boyce's latest work is a 1.8 kilometre-long track-side wall for the new Elizabethan train line: it's printed with stories that emerged from 25 workshops that the artist conducted with London's Newham community, and is decorated with images of local flora and fauna.
It's a project that chimes with Vivien Sansour, who travels around Palestine cooking local recipes from locally sourced food in order to bring people together to talk, eat and work out peaceful and productive solutions to difficult situations. "Plants" she says, "create opportunities to talk about cultural diversity and biodiversity and the fact that life is so magical."
Artist and image: @Vivien.Sansour

These are just some of the many women around the world who employ art as a tool to help heal the planet. In the words of Agnes Dene: "Creativity and innovation is the answer in a troubled world to swing the pendulum. Be creative. Never stop. Creativity is hope."
Jennifer Higgie is a writer and editor-at-large of frieze magazine and the host of Bow Down podcast, which discusses women in art history. Her book The Mirror and the Palette: 500 Years of Women's Self-portraits will be published by Weidenfeld & Nicolson in March 2021.

Banner artist: Agnes Denes; image from @BowDownPodcast