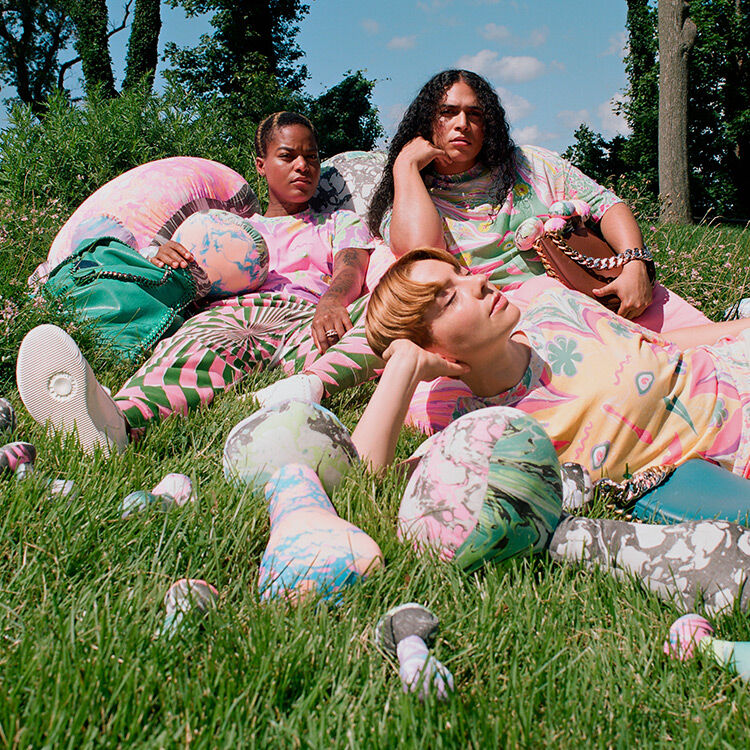 Stella Shared 3: Myfawnwy artist profile
Stella Shared 3 shares our platform today with three creative forces of tomorrow, including Myfawnwy – the studio and pseudonym of New York City artist Maisie Broome. Her practice explores the transformational effects of nature, pattern and emotion through sculpture, printmaking, experimental textile, fashion and object design.
Primarily working with marbling, Myfawnwy floats ink on a buoyant liquid surface and 'draws' with it to create whimsical and unique imagery like hand-marbled faces on suns and flowers. Her one-of-a-kind designs shine across organic cotton jersey t-shirts, coordinated sets and vegan accessories – optimistically blending fantasy, wearability and a connection with Mother Earth and each other.
For Stella Shared 3, Myfawnwy brought together her next-gen collective to shape our campaign and collection. She will also be hosting and curating an immersive store takeover at our New York City flagship, with an exclusive event bridging her and our communities on 15 October. Committed to elevating and amplifying next-gen voices, we connected with Myfawnwy and her creative collective below.
Maisie Broome (Myfawnwy)
What is the story behind your faces in flowers and suns?
I work in the technique of marbling, which is essentially floating paint on a buoyant surface to create pattern and imagery. With time and practice, I've gained more control over the technique and started to create specific detailed imagery. I began creating these faces very intuitively during that experimental phase and would film the process, bringing these fluid artworks to life with winking eyes and grinning lips. By personifying nature, giving flowers faces and suns feelings, I hope to re-inspire our connection and relation to the natural world.
How would you describe your artistic vision?
I was raised completely off the grid in rural Maine, so nature became a portal for me to escape into dreamworlds where reality blurred with fantasy. Much of my work focuses on recreating this experience through my technical process. I believe that art offers a unique window into seeing things differently, and I try to create work that reconnects us to a sense of wonder and magic.
What inspires your art?
I am endlessly inspired by the creative people in my community near and far, many of whom were part of this collaboration.
What made you want to be part of Stella Shared 3?
I align with Stella's values and A to Z manifesto. This is a chance to share my work with a new audience and to connect and collaborate with people to make something thoughtful, exciting and sustainable. It doesn't get much better than that!
What message do you want to communicate by being on our global platform?
This project reflects the beauty and power of collaboration, community and diversity. I hope that the wonder and adoration that we have for nature and for one another is apparent in our campaign, and will inspire others to act with positivity and be stewards of the environment and humanity.
Mosie Romney
What values do you think today's youth represent?
Today's youth find value in savouring the moment. I think the pandemic taught us to soak up every and all moments as things can change in the blink of an eye. We are on our toes, ready to adapt while trying to live true to ourselves.
Sijean Gonzalez
Do you think it's important to erase gender boundaries and binaries in fashion?
Fashion has long been inspired by those who shun gender binaries and by further erasing these boundaries within the industry, we uplift this historically brave work and encourage others to participate in expressing themselves without concern of being judged or maligned. Erasing gender binaries in fashion helped me personally by allowing me to play with my own non-binary gender identity in a creative and passionate way. Erasing gender binaries in fashion is as much fun as it is important!
How do you think your generation of creatives will change the world?
We are already changing it! The influence of my generation is being felt across every industry around the globe. We might not have a unified voice, but we are willing to engage with and learn from each other.
Nico Reano
How do you think your generation of creatives will change the world?
I foresee a lot of radical motion that will continue to push boundaries and change our culture, and the world, for the better. Especially among queer/trans creatives working in fashion, I see so much work being created that exposes the erroneous and reductive qualities of the gender binary. There's no time or room anymore to be scared. Queer/trans people are wearing whatever they want to wear, all in the face of a world that tells them that they can't do any of that. And fashion plays a large part in that: developing and advancing aesthetics that not only invalidate historical notions of gender, but explore new forms of visibility and self-expression that continue to shift culture to new peaks.
Bryan Villalobos
Do you think it's important to erase gender boundaries and binaries in fashion?
Absolutely, gender is not linear. To limit is to oppress, a world of possibility exists – why should we tie ourselves down to what we know? It's easy to get comfortable with what is fed to us. It's our duty to push binaries to a more fluid state, to knock down boundaries placed by ancient ways of thinking. How can we go on if we can't or are not willing to change?
What role does fashion play in changing the world?
Fashion has such a huge hand in identity. More and more we see younger designers, artists and creatives really push the realm of possibility to show what might be a fantasy to some can become their reality. Sometimes pushing limits in the world of fashion and art may feel wrong because we're so comfortable with what we already know. Change and growth isn't always supposed to feel good. It's hard, it's work, it's pain and it's sacrifice, but it can also be calming, eye-opening, fulfilling and beautiful.
Becca Kauffman
Do you think it's important to erase gender boundaries and binaries in fashion?
It's not just important; it's imperative. The fundamental truth is that clothing has no gender — that's just a warped concept that colonialist culture constructed and fashion reinforces. You aren't forfeiting your identity by blurring or foregoing what's defined as "masculine" or "feminine"— you are, in fact, activating it. Clothing is a public art form. The more porous we allow ourselves and what we wear to be, the more we transcend the constraints of the gender binary and the gendered gaze to genuinely connect to ourselves and one another. As arbiters of taste and cultural norms, fashion brands have a responsibility to disrupt and dismantle the ideology that suppresses our pure and limitless humanity.
How do you think your generation will change the world?
When you're living in a constant, slow-burn state of emergency, petty and restrictive rules lose power, constrictive boundaries dissolve and building an interdependent future that sustains the planet and supports the most marginalised becomes the priority.