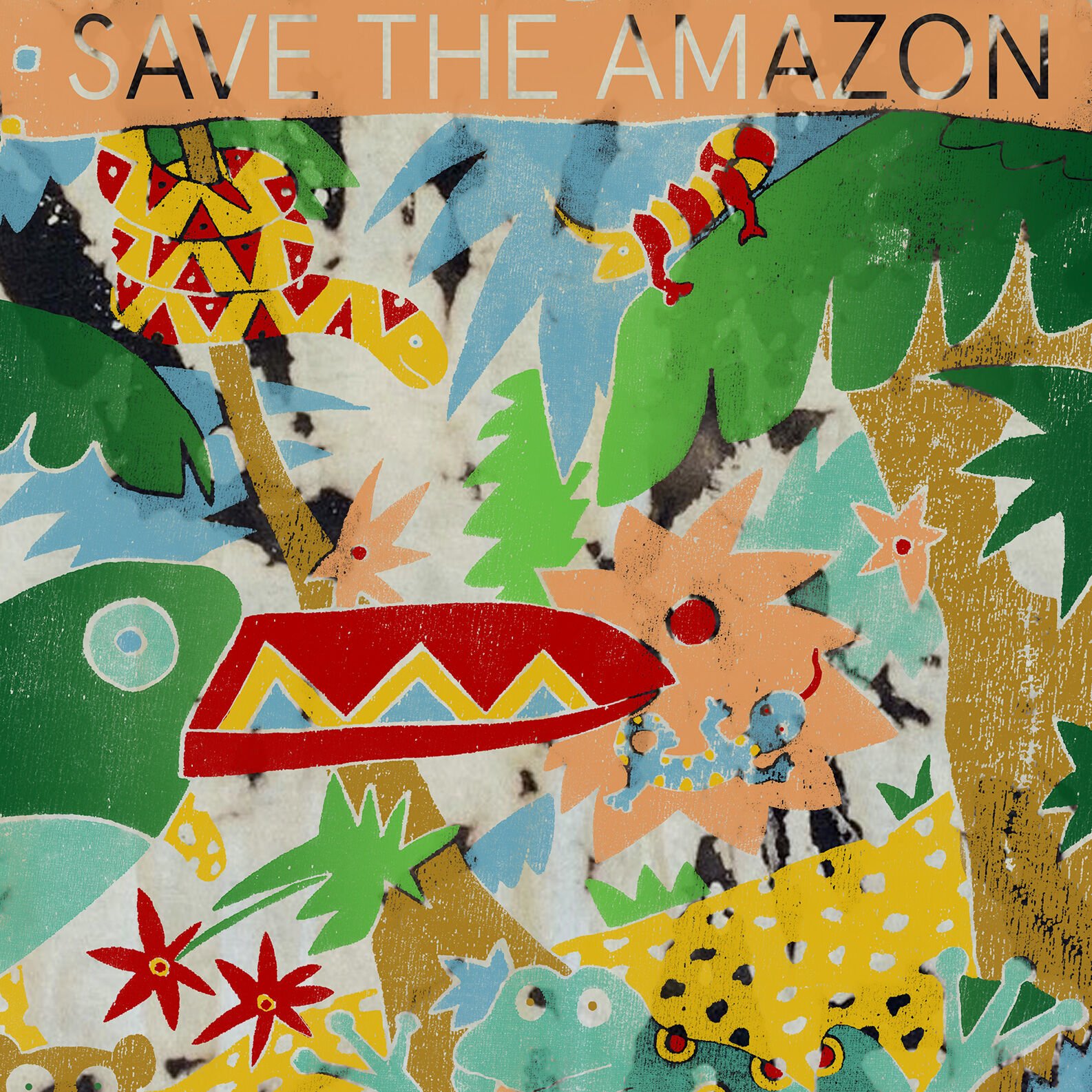 Spotlight on: Stella x Greenpeace

In 2021, Stella McCartney and Greenpeace will be celebrating our respective 20th and 50th anniversaries. Honouring these milestones and inspired by our McCartney A to Z Manifesto, we are protecting our collective tomorrow by safeguarding what is precious today. We are exclusively releasing two t-shirts and two sweatshirts supporting Greenpeace's campaign to stop deforestation in the Amazon fuelled by industrial agriculture and meat production.
Launched as part of our Summer 2021 collection and our zero-deforestation commitment, the Stella x Greenpeace pieces feature graphics taking cues from vintage eco-activist designs in pale blue and white marble colourways – emblazoned with rallying slogans like "Save the Planet". All garments are made from a soft, certified organic cotton that is kinder to Mother Earth, grown without the use of harmful chemicals, pesticides and fertilisers that could threaten fellow creatures and local communities.
The Amazon is the world's largest rainforest, home to nearly 400 billion trees, 10% of the planet's animal species as well as 30 million people, 2.7 million of whom are Indigenous. It is also Earth's biggest carbon sink, absorbing and sequestering 90-140 billion metric tonnes of carbon.
Industrial meat is the single largest cause of deforestation on the planet. Deforestation in the Amazon reached a 12-year high in 2020, with fires used to clear vast areas of rainforest in order for cattle to graze or to grow soya for animal feed in factory farms. The resulting meat and dairy is sent to supermarket shelves and fast food restaurants in the UK and across the world.
Something to chew on: If we all ate plant-based diets, it would take 75% less land to feed the entire planet.
Not only does Amazon deforestation threaten biodiversity and local communities, but it negatively impacts the climate – releasing billions of tonnes of carbon dioxide into the atmosphere and reducing the number of healthy trees able to absorb greenhouse gases. We are reaching a tipping point, making this cause more urgent than ever. If 5-8% more of the Amazon is destroyed, all of its incredible species and climate crisis-mitigating qualities will be lost forever.
We are helping to safeguard this vital ecosystem for future generations as part of our zero-deforestation, cruelty-free commitments. Greenpeace has a longstanding history of campaigning to protect the Amazon rainforest and other forests internationally. The organisation's presence on the ground in the region, as well as in over 40 countries around the world, makes it best placed to put global pressure on the industries responsible for driving deforestation.
Since 2014, Stella McCartney has committed to being a zero-deforestation brand by never sourcing from ancient or endangered forests – having achieved this in 2016, with the majority of our viscose now coming from sustainably managed forests in Sweden. We additionally use sustainably sourced paper and wood, including in the soles of our Elyse platform shoes.
Other Materials & Innovation