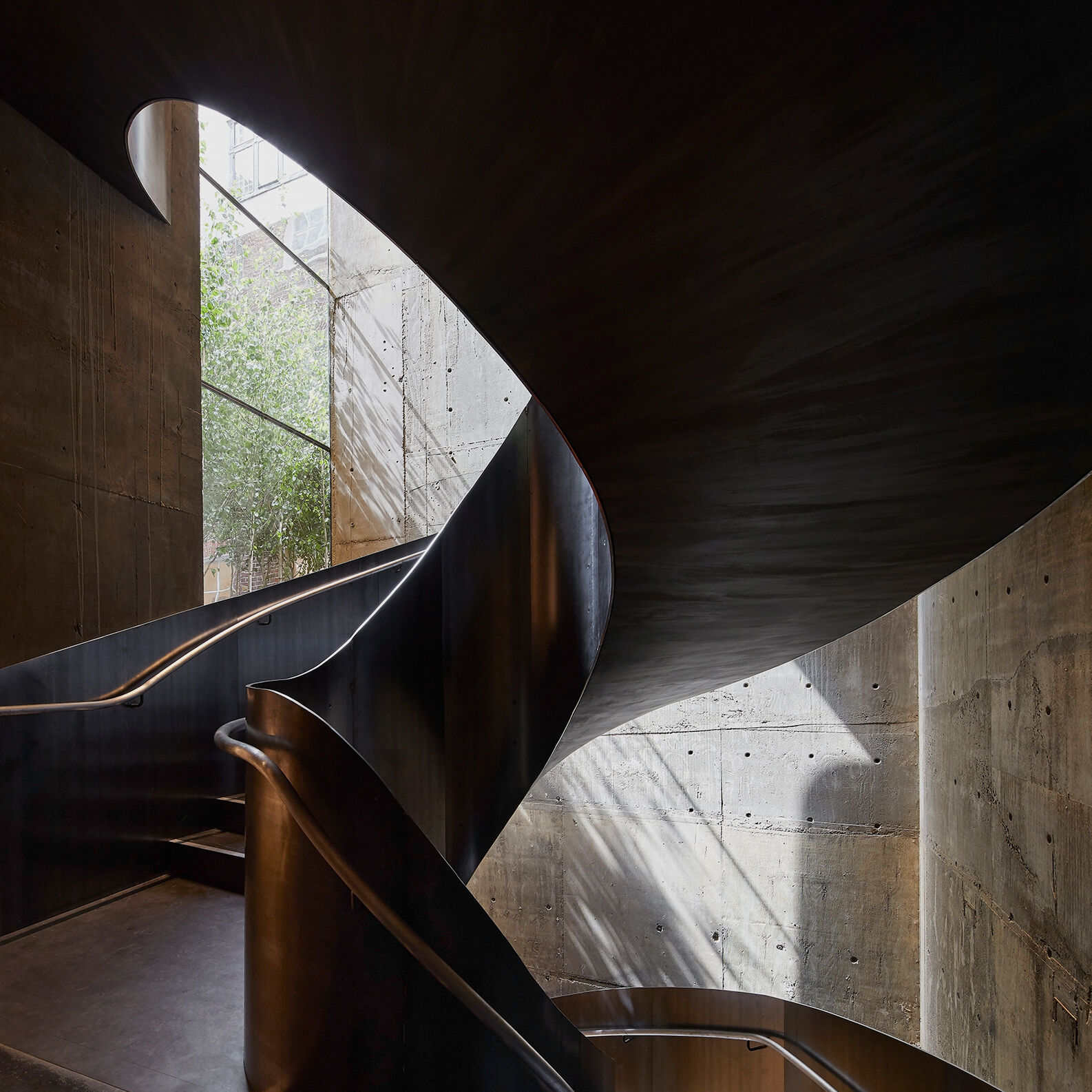 Discover 23 Old Bond Street
23 Old Bond Street celebrates the world of Stella, reflecting our approach to design, innovation and sustainability. The store captures the spirit of our naturally sexy, naturally confident and modern collections and has been designed with bespoke personal experiences at its core. There are new ways to explore our ethos through a unique and multi-sensory journey, with all the collections in one place amidst artistic, graphic and sound installations.
Old Bond Street is probably one of the most prestigious retail locations in the world. And for me being born and bred in London and having our business headquarters there and design studio, it's incredibly prestigious for us; and I feel we've arrived.
Stella McCartney
Architectural Design
We have created an intimate, personal and architectural atmosphere to constantly evolve and bring a textured emotional experience into the space. The grade II historic 18th century building's original façade, including an ornate Edwardian entryway and a planted balcony, have been carefully preserved; a sharp contrast with the contemporary interior that is spread across the four floors. The space explores a play on texture, volume and light in themes that evolve throughout the building. A sculptural spiral raw steel staircase anchors the space.
Fluted concrete walls in a range of textures from top to floor complement glass cube cases, linear brass railings, and colourful ceramic gemstone fixtures; inspired by memories of Stella's childhood playing with pebble dashed walls. All of these features are interchangeable, allowing a fluid and reactive canvas for the merchandise on display. Contrasting accent details include silicone tables in shades of pink, substantial reclaimed wooden blocks and exposed original brick walls.
Signature cruelty free pink Fur-Free-Fur material from previous collections is repurposed to playfully line the walls of the "Stellavator" as a way to "having a sense of humor, a pop," notes Stella. Personal touches decorate the walls of the fitting room, which feature hand embroidered 'Hands of Love' prints created by team members from around the world. Embracing the playful sprit of our Stella Kids collection, there's a ball pool and climbing wall on the lower ground floor.
The store has been so considered; every single step that you take in the store is one that I hope is elevated, I hope is executed in the most magnificent way. We've put our heart and soul into creating this store; so much love and attention has gone into every single part of the process.
Stella McCartney
Multi-sensory experience
Further bringing personal emotion into the space is the use of sound, light and smell to create a multi-sensory experience. Speakers strategically cast into concrete play abstract sounds to elevate the senses within different zones featuring spoken word recordings and an original sound collage specially created by Paul McCartney. On the second floor, alongside the menswear collection, there's a 'Stell-a-phonic' installation of handmade reggae style speakers designed by artist Swifty. Tracks are handpicked from Stella's personal vinyl collection, who says "that's basically a homage to the Notting Hill Carnival," demonstrating our natural connection to music.
Natural light gleams through the shop's urban indoor garden and the striking skylight, while artificial lights subtly highlight the space's architectural details and product features. Upon entering the shop on the ground floor, a customised fragrance complements the clean air experience.
Sustainability and nature
Staying true to our commitment to sustainability and innovation, every effort has been made to move away from traditional luxury materials, using handmade, organic and sustainably sourced elements in the new store design to echo the same approach as our collections. Reiterating a sustainable approach to design, Stella says, "Everything that I do is a commitment to sustainability and to being responsible and ethical."
Stella goes on to say "We have purposefully put and effort to use more handmade, organic and sustainably sourced elements in the store design," including papier-mâché recycled from paper waste in our London office, transformed into the bespoke decorative wall panels of the women's ready to wear first floor. Foam furniture made of recycled materials, reclaimed timber sculptural plinths and vintage hand selected furniture are scattered throughout the rooms including pieces by Italian architectural designers Mario Bellini and Angelo Mangiarotti; all reflecting our philosophy to reclaim, re-use and recycle. Informative messages on sustainability can been seen throughout the store in signage and projected moving images to aid in articulating and highlighting our ethos.
Sustainability is a massive part of what we do as a brand and therefore also a massive part of this store.
Stella McCartney
We are also the first to use BNATURAL by Bonaveri biodegradable mannequins made from BPlast®, simply a bioplastic material composed of 72% sugarcane derivative which enables for a significant reduction of CO2 emissions. The mannequins are coated in BPaint® made solely from renewable organic substances and free from petroleum derivatives.
Celebrating a love of nature, 'Stella Rocks' is a bespoke indoor rockery installation at the ground floor consisting of black limestone from a quarry in Durham and rocks straight from the McCartney farm in Campbeltown. Moss and thyme are replanted through Wayward's scheme to rehome thousands of plants each year. The outdoor urban garden sanctuary on the first floor feature both annual and seasonal plantings: "We could have done anything up there, but for me to be able to have a garden inside a building in Bond Street, just feels so luxurious. I've never known anything in a store that you can go in and have a garden, floating over you," says Stella. Silver birch trees that sit alongside ferns, wild ginger and moss from Scotland.
Clean air zone: Stell (air)
In an effort to reduce exposure to air pollution inside buildings, we will be the first indoor commercial space in London with clean air. Through the cutting edge technology provided by Airlabs* a low energy, low maintenance filtering process removes 95% of the air pollutants and harmful gases such as nitrogen dioxide and particulate matter inside 23 Old Bond Street through a hidden ventilation system with a nano carbon filter. Airlabs* is comprised of a unique team of atmospheric chemists, airflow engineers and sensor developers based in London and Copenhagen dedicated to clean air solutions. We now hope to further highlight the need for cleaner air inside buildings.
'Members and Non-Members Only'
Introducing the 'Members and Non-Members Only' club, hidden behind a concealed door on the second floor. Customisable and ever changing, 'M&NMO' is "a space for me that's really emotional," comments Stella, housing personal family photos and furniture allowing a greater discovery of our philosophy in an intimate and personal setting.
Through various events, exhibitions, activations that will rotate constantly, including access to exclusive and limited edition merchandise and unique items available for personalization, 'M&NMO' will offer a unique journey into the world of Stella. The first installation within the space is our 'Stella Studio': an exploration into our atelier, as well as the visual references and inspirations behind our new season collection, illustrating "the workings of the collection and the emotional experience that I go through with my team every season when we have to create. I want my customer to be part of that, I want them to feel like they're in my studio with me and they're creating that collection."
Designed by Stella and the Stella team, 23 Old Bond Street is located in London's Mayfair, carrying all product categories including women's and menswear ready-to-wear, accessories, lingerie, swimwear, kids, eyewear, fragrance and adidas by Stella McCartney.
23 Old Bond Street, London, W1. Monday to Saturday 10am – 6:30pm; Sunday 12pm – 6pm.
+44 20 7518 3100
23oldbond.store@stellamccartney.com