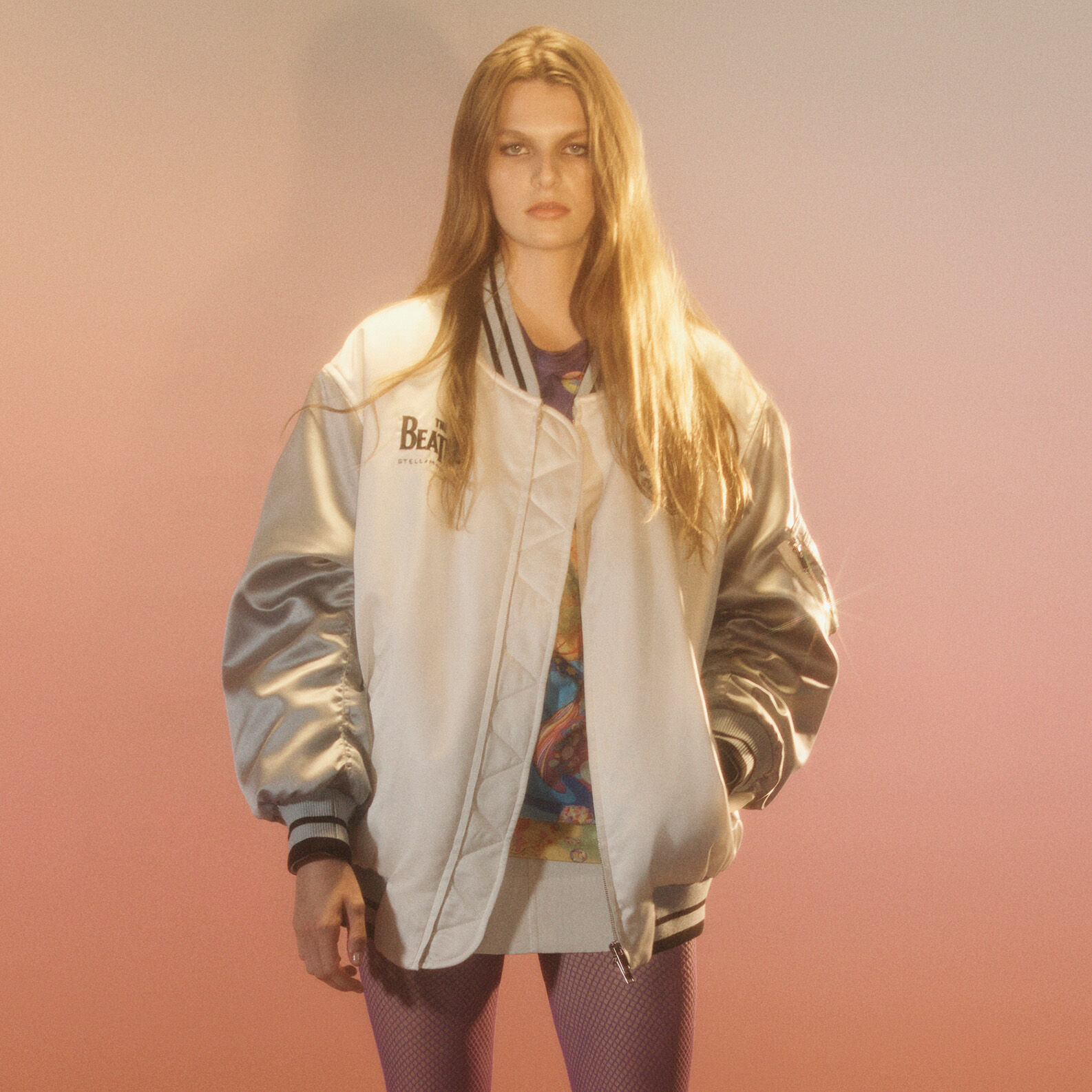 Stella McCartney x The Beatles: Get Back capsule is timely and timeless
Timeless cultural staples, The Beatles are a forever phenomenon. A revolutionary band of change-makers, the British foursome redefined the activist power of song and its influence on politics and fashion – fighting for what matters, much like today's generation. With their forward-facing vision and values more relevant than ever, we celebrate The Beatles this season through the Get Back capsule.
The limited-edition capsule is named for a track from the group's final album, Let It Be, and an upcoming Disney+ documentary, The Beatles: Get Back. It presents an inclusive setlist of conscious, collectible pieces for fans of all ages and identities – women, men and kids.
An ode to the band's transformative legacy and eternal comradery, the versatile, unisex wardrobe features monochromatic graphics inspired by their most-beloved covers and typography – mixed with kaleidoscopic prints created by their long-time collaborators, The Fool collective.
Get Back is about so much more than just a song or a concert – it is the timeless story of lifelong friends coming together to create something incredible with laughter and utter fearlessness whilst standing at the forefront of change. The Beatles were the faces of a cultural movement for positive change that continues to shape the lives of millions around the world, and I hope this capsule celebrates and communicates these ageless messages to a new generation.
Stella
Materially revisiting the band's pivotal moment in musical and political history, Get Back presents strong, meaningful aesthetics relevant today. Sustainable styles become memorabilia through a regenerated nylon bomber inspired by Paul McCartney's own closet, galaxy wash organic cotton denim, knit tracksuits, a patchwork cardigan coat and vegan accessories with collaged takes on the band's album iconography.
The Get Back capsule rebirths loud, colourful graphics paying homage to the Fool collective's psychedelic art. Reminiscent of the 70s' flora and fauna influence, multicoloured hues and vibrant prints are on full display across organic cotton t-shirts, jumpers, hoodies and the new Reclypse unisex trainer –­ Stella's most sustainable sneaker to date, handcrafted from recycled, regenerated and plant-based materials.
The celebration begins with a launch event at the legendary Henson Recording Studios in Los Angeles bringing together our Stella community with fans of music, fashion and film. That experience will then be replicated visually and energetically through immersive in-store takeovers globally in London, New York City, Shenzhen, Milan and Madrid, as well as an exclusive pop-up at Hakyu Umeda in Osaka, Japan.
Shop the Get Back capsule online and in-store now.