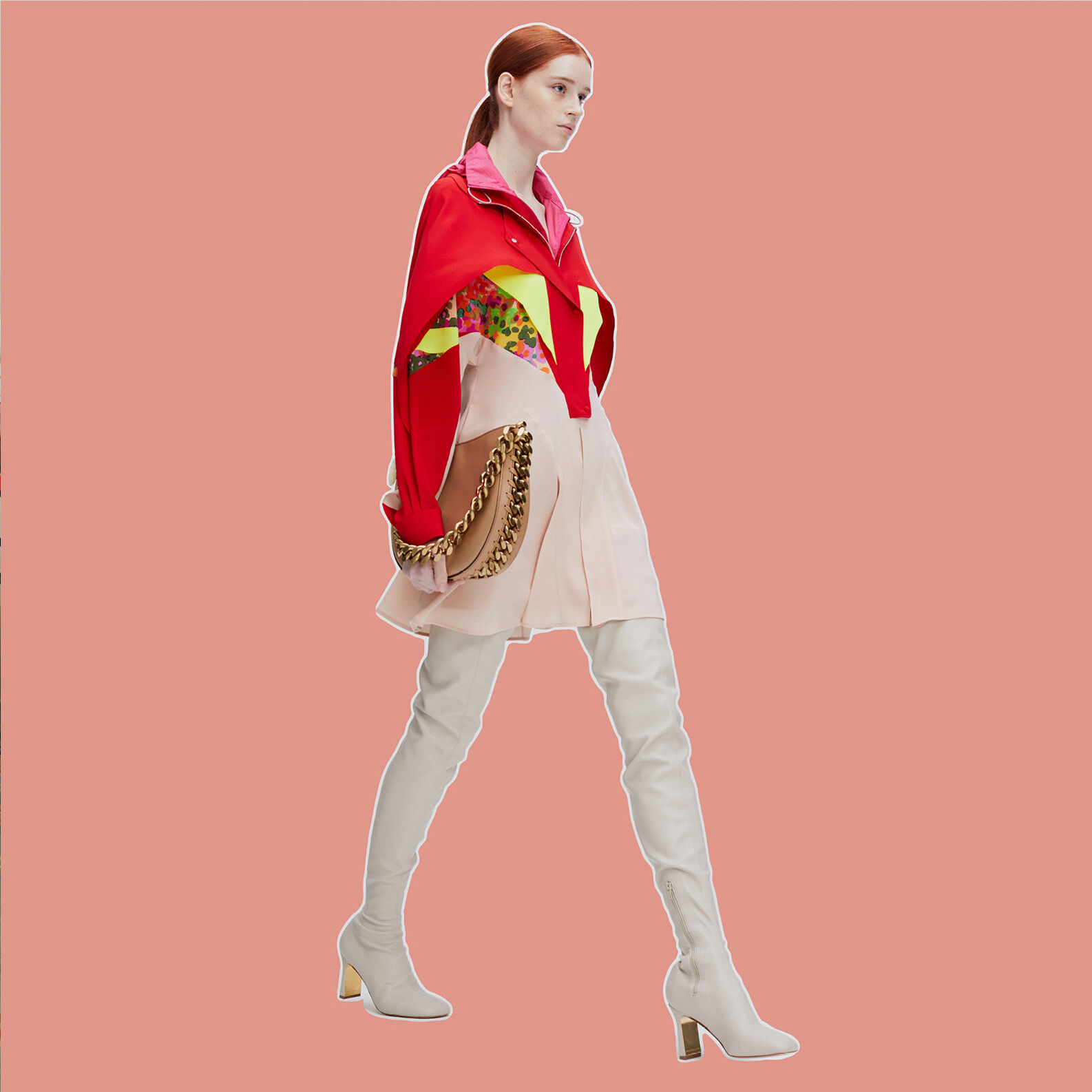 Stella McCartney Autumn 2021 advances a sporty, sustainable optimism
Stella McCartney Autumn 2021 debuted today, personifying J is for Joy from our McCartney A to Z Manifesto – an energetic, colourful vision progressing forward at a time when we need optimism more than ever. This season, we elevate performance wear archetypes and refocus them with softness, sensuality and fluidity, resulting in an exuberant presentation made with 80% eco-friendly materials; our most sustainable collection to date.
While the vast majority of styles are eco-friendly, a highlight this season is a curated edit of core conscious garments that are 100% sustainable. Hand-selected by Stella, this range of archetypal clothing items comes together to form a complete wardrobe solution.
Focal also are vegan and cruelty-free bags, including an oversized Maxi take on our iconic Falabella and Frayme – a bold new style remixing classic brand codes. Advancing Autumn 2021's sportiness are Fannee and Zipit belt bags, while we revisit our Logo bag in fresh materials and colourways alongside our Hobo tote in a compact, rounded edition.
In ready to wear, multicoloured skiwear-inspired silhouettes include wide shoulders and narrow waists. This vibrancy is elaborated on by bodycon florals riffing on patterned 90s swimsuits – an athletic nostalgia energised in leggings and an updated 'STELLA' graphic across oversized Teddy Mat coats and matching jacquard fleece sets. This cosiness is continued through clean, compact knit tracksuits alongside chunky Aran jumpers and classic Stella intarsia sweaters.
Taking cues from military cuts, workwear and winter sports are patchworked trousers and brand icons youthfully cinched with clip belts and bum bags, including our signature tailoring, all-in-ones, KOBA Fur Free Fur coats and loose, short dresses. Bringing balance is a paired-back tonal wardrobe, while encrusted lace serves a whimsical wave in Stella's signature free hand.
Our sustainable Loop sneaker is given a BMX-inspired technical knit upper, while our gum-soled Emilie is reimagined as a cowboy boot and an après ski-ready teddy version. Our iconic Elyse platform is revisited as a slingback clog in step with the Trace Clog and Air Slide – capturing an elevated-yet-effortless attitude with Fur Free Fur linings. A moment of sensuality comes from our new Ivy over-the-knee boot, with a rounded square toe and block stiletto heel, aligned with the edginess of our pointed Zipit and timelessness of our iconic Falabella styles.
Rounding out Autumn 2021's joyful colour story are organic Blob earrings in vibrant shades, while our iconic Falabella chain is reinterpreted as a bicolour silver and gold chunky necklace and bracelet.