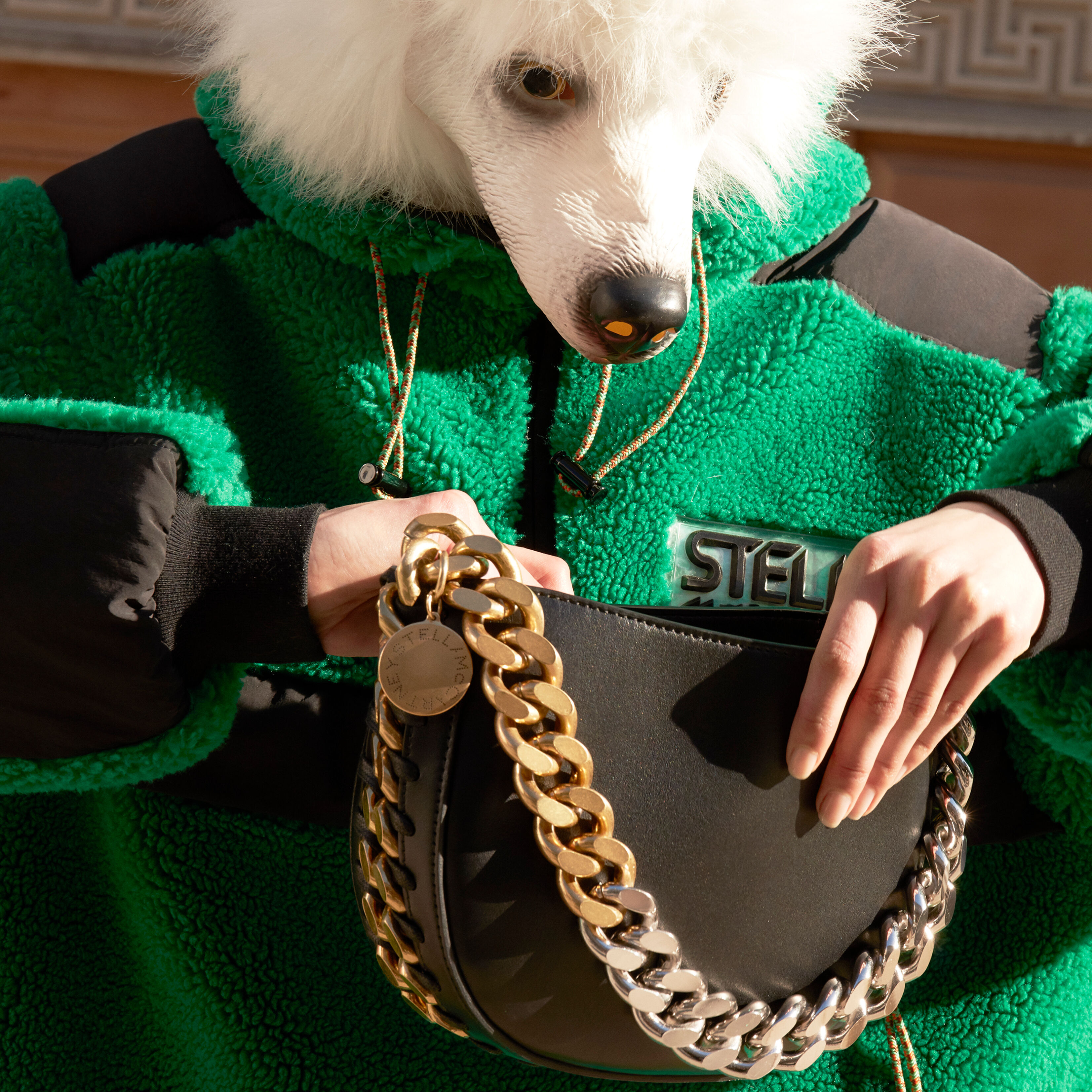 The Frayme: A contemporary vegan icon reenergising classic brand codes
Iconicity is rare and difficult to qualify; cherished items imbued with cultural cachet and power, commanding immediate desire. Amongst handbags, certain elements are tangible, like elevated designs, luxury materials and artisanal craftsmanship. But what makes an icon truly stand out is timelessness, being equally desirable after a day or a decade – embodied first in our Falabella, and now the Frayme.
Launched as part of our Autumn 2021 collection, the Frayme is a bold style reenergising classic brand codes inspired by our iconic Falabella including an oversized aluminium chain strap that runs around the bag as well as a zamac statement medallion. Aligned with our seasonal campaign declaring 'Animals are equal', it is handcrafted in Italy using entirely vegan materials – with a body made from Alter Mat, a cruelty-free alternative to animal leather.
The Frayme's chunky, bicolour galvanic chain blends from a classic gold to silver on the handle – laced by hand around its half-moon body, giving it a striking and defined shape. Its vintage-inspired medallion takes cues from the work of Carl Auböck, a favourite artist of Stella's. Committed to being both cruelty-free and conscious, the interior of each bag is lined with a vegan alternative to suede using less solvents.
It continues our legacy of having never used leather, feathers, fur or skins since day one. Our iconic Falabella tote became the first vegan "it" bag when it launched in 2009 and has sold over 1 million since then – preventing the deaths of approximately 400,000 cows. Animal agriculture is a driver of climate change and deforestation, and accounts for approximately 18% of the world's greenhouse gas emissions.
Shop the Frayme bag below.